For the past several years, one essential piece of office equipment in which businesses can invest is a printer. Several manufacturers developed and designed a variety of printing technology available in the market today equipped with advanced printing technology suitable for small businesses and medium-scale companies. However, with the vast array of printing options in the industry, businesses find it difficult to seek a printing tool that will meet their minimum business requirements to operate daily. 
Businesses and corporations that produce large-format vector images for architectural and engineering drawings or commonly known as blueprints utilize a plotter printer for wide-scale printing. Several companies and manufacturers including Hewlett Packard (HP), Oce, Canon, and Roland developed reliable and well-built plotters or wide format printers to produce solid continuous lines with vibrant colour prints.  
What are Plotters?
Plotter printers are laserjet or inkjet tools that interpret commands from computer hardware to produce accurate line drawings continuously directly from vector graphics files. It differs from conventional printers since the standard tools utilize a toner to print multiple dots of ink to the material, while plotters use a precise pen to actualize the vector images onto plywood, aluminium, or plastic. Many consumers refer to it as plotter printers due to the X/Y pen process to generate CAD or Computer-aided Design illustrations and line art applications.  
Although plotter printers have become less prevalent in the past years, they still provide high-resolution drawings. The advancement in technologies contributed to the phase-out of plotters due to their slow speed and complex mechanisms. The modern plotter technology produces large format plotters which allows the consumers to print on full paper sizes. The manufacturers also designed a microchip and memory advances to enable the plotter printers to execute processes simultaneously at a quick pace with accurate and high-quality outputs.  
Which industries utilize Plotter Printers?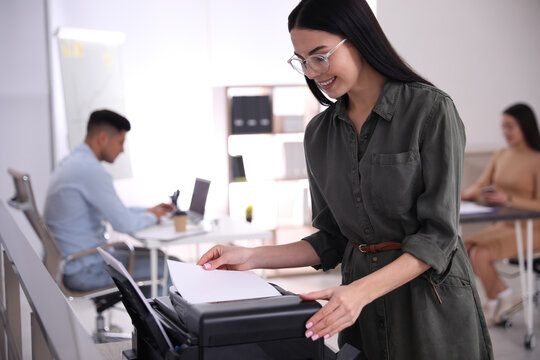 Architect, Engineering, and Construction (AEC)
For the Architecture, Engineering, and Construction industries, businesses and corporations must purchase specialized printers or plotters which will produce accurate, highly productive, and quality large-format documents. These firms produce floor plans, CAD drawings, CAM Blueprints, and site plants which massively rely on wide-format multifunction printers to scan, print, copy and distribute business documents quickly. 
Geographical Information System (GIS)
The Geographical Information System or GIS is a computerized system that visually depicts the data on a map and aerial images from statistical analysis, database technology, and cartography. To produce high-quality maps, several developers consider the physical and mechanical aspects of plotter printers. Most companies need a wide-scale printing technology that measures at least 44 inches to print 40×40 elevated maps. Moreover, GIS files are large which typically range in gigabytes, so companies need to purchase plotter printers that can process large data.  
Value of Plotters
According to chron.com, the costs of plotters do not come inexpensively. It ranges depending on its usage — approximately $300 to $5,000  for low-end printers for coloured sign-making vinyl to larger equipment. Companies and businesses should consider the price before deciding on whether they will lean on plotters leasing or purchasing. Leasing equipment is an agreement between the lessor and the lessee where the former provides the latter with the right to utilize their machine at a designated time frame with monthly payments. At the end of the lease term, the lessees have a choice of whether they will purchase, return, or extend their lease term. There are a variety of companies that offer consumers printers and plotters leasing at a reasonable price for their business growth. Equipment leasing allows businesses to make minimum initial investment for preserving the cash flow while obtaining the plotter they need. Leasing services also offer additional benefits such as tax advantage and better value inclusive of installation costs and maintenance. 
If you plan to get copiers for your office in New York, you can buy or lease copiers in New York. We can give you the option to get the copier that you want. You can contact our local copier leasing services department in your location.
If your Location is around New York, you may call us at (718) 583-0098, and our personnel for copier leasing in New York will assist you.   If you are also looking for copier repair services in New York, you may contact our copier repair personnel at the same number.